Judul
: Backstage Pass
Seri
: Sinners on Tour #1
Penulis
: Olivia Cunning
Penerbit
: Sourcebooks Casablanca
Tanggal Terbit
: Oktober 2010
Halaman
: 384
Genre
: Contemporary Romance; Erotica Romance
Five stunning guys, one hot woman, and a feverish romance . . .
For him, life is all music and no play . . .
When Brian Sinclair, lead songwriter and guitarist of the hottest metal band on the scene, loses his creative spark, it will take nights of downright sinful passion to release his pent-up genius .
She's the one to call the tune . . .
When sexy psychologist Myrna Evans goes on tour with the Sinners, every boy in the band tries to seduce her. But Brian is the only one she wants to get her hands on . . .
Then the two lovers' wildly shocking behavior sparks the whole band to new heights of glory... and sin...
Pas nulis review ini baru ngeh gambar di bawah tulisan "Backstage Pass" itu. Hahahaha.. Terlalu konsen sama gambar yang di atasnya. Warna covernya bagus soalnya =P
Rencananya aku mau mengikutsertakan novel ini ke dalam challenge New Author. Terus baru ingat kalau aku dulu pernah baca seri One Night with Sole Regret novella-nya Olivia Cunning. Gak jadi deh. Huffftttt....
Sebenarnya punya ebook novel ini udah lama. Tapi ntah mengapa gak dapat mood buat bacanya. Baru kemarenan baru ada. Jadi ceritanya, si Myrna ini adalah profesor di sebuah universitas yang mendalami mengenai psikologi seksual.
Myrna lagi mengadakan konferensi dan dia ketemu dengan anggota The Sinners di sebuah lounge. Myrna dari dulu tertarik banget sama Brian, lead guitaristdari band tersebut. Nekat lah dia mendekati band itu dan berkenalan dengan semua timnya. Brian yang saat itu sedang mabuk, diajak Myrna ke kamarnya untuk menyembuhkan Brian.
Dari situ lah semua berasal dan hubungan mereka kian berkembang walaupun hanya sebatas having sex. Ikut dalam tur The Sinners membuat hubungan Myrna dan Brian menjadi lebih intim dan kata cinta sudah menggantung di antara mereka. Namun, Myrna dengan jelas menyatakan bahwa dia anti dengan kata cinta tersebut, dan kemungkinan besar Myrna akan mundur ketika Brian mengucapkan kata itu.
Sewaktu membaca novel ini dari halaman awal, aku sudah berharap banyak karena rating dari buku ini cukup tinggi. Dan yah, memang benar. Aku menikmatinya. Aku suka pertengkaran mulut antaranggota band. Selain itu, karakter-karakternya juga menyenagkan.
Aku suka banget sama kesabaran Brian dalam menghadapi Myrna yang parno dengan kata cinta. Entah bagaimana lagi caranya agar Myrna mau mengerti bahwa Brian mau serius dengan wanita itu. Dan cinta itu semakin besar ketika wanita itu membelanya di depan kedua orang tua Brian. Karakter pria satu ini adorable banget deh.
Tapiiiiii... pas adegan dengan Trey itu, langsung males bacanya. Aku tak bisa menerima ketika dua orang yang sebenarnya sudah intim, tiba-tiba ada pria lain walaupun pria itu diundang sebenarnya. Huhuhuhuhu... Rasanya pengen hapus adegan dengan Trey itu >,< Makanya ratingnya kukurangin setengah.
Jalan ceritanya sendiri sih cenderung datar ya buatku. Cuma suka aja rasa posesif si Brian terhadap Myrna. Penasaran sama cerita dari karakter lain. Entahlah, untuk saat ini Brian berada di posisi satu untuk karakter yang aku sukai dari buku ini, diikuti dengan Sedric (walaupun terkadang dia menyebalkan).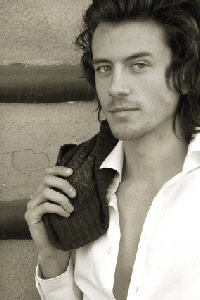 Ganteng yak!
Overall, alurnya enak buat diikutin dan oke kok buat bacaan ringan. Tapi ingat ya, banyak sexual content-nya. Aku bakal lanjut buku berikutnya yang bercerita mengenai Sedric. Semoga lebih bagus dari Backstage Pass =)
Sinners on Tour series:
#1 Backstage Pass
#2 Rock Hard
#3 Hot Ticket
#4 Wicked Beat
#5 Double Time